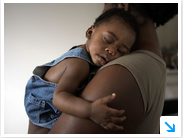 November 15, 2017 – Joan breaks down the importance of healthy sleep habits for readers of the Milwaukee Journal Sentinel and Metroparent Magazine.
Read: Happy, healthy and wise: Why good sleep habits make your kids happier and, yes, smarter
---

November 7, 2017 – Tuck names Joan and Pea Pod Sleep Consultants among the Best Sleep Consultants in the U.S.
Read: Best Sleep Consultants in the U.S.
---

July 28, 2017 – Joan advises readers of Metroparent Magazine on how to prepare school-age children for the transition back to September sleep schedules.
Read: Back-to-school sleep: 4 strategies to get your kids back on schedule
---

June 19, 2017 – Juanita Covert of Kinstantly talks to Joan to get the scoop on the best time to make the move to a "big kid" bed, and what to do in the meantime.
Read: Is it time to move my crib-escaping toddler to a big-kid bed?
---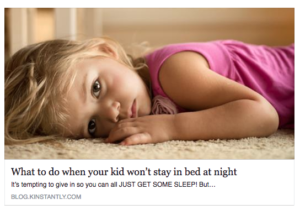 May 11, 2017 – Joan talks with Juanita Covert of Kinstantly to give some advice on how to deal with a "jack-in-the-box" child who won't stay in bed.
Read: What to do when your kid won't stay in bed at night
---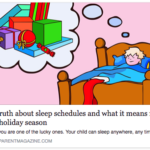 November 28, 2016 – Ty Schmidt of Metroparent and Joan chat about why it's important to keep kids on a regular sleep schedule to truly have a happy holiday.
Read: The truth about sleep schedules and what it means for your holiday season
---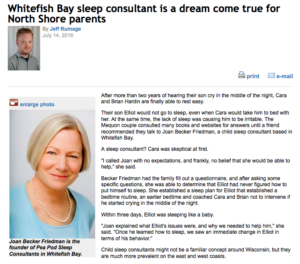 July 14, 2016 – Joan talks with Jeff Rumage of North Shore NOW about founding her business, what it is that sleep consultants do, and her experience helping the Hardin family of Mequon.
Read: Whitefish Bay sleep consultant is a dream come true for North Shore parents